Cooktop Cleaner
Quickly clean induction cooktops, cookware, and other glass or ceramic surfaces with our Multipurpose cooktop cleaner.
Buy on

---
Cleaners that contain harsh abrasives can scratch glossy surfaces, so the best way to clean a glass or ceramic cooktop is to use a product formulated for those surfaces. Our cooktop cleaner removes cooking oils and hardened food debris without scratching or dulling the cooktop. While primarily used as a glass cooktop cleaner, you can also use it to clean metal and ceramic cookware.
Where To Use
Ceramic cooktops

Glass cooktops

Ceramic dinner and servingware – buff out utensil marks!

Metal cookware and servingware
Where Not To Use
Gold or silver

Polished stone such as marble or granite

Lacquered, painted, or mirrored surfaces
Before cleaning any surface not listed on the bottle, test on our cooktop cleaner small, inconspicuous area.
Shake product well.
Squeeze product on wet surface or damp sponge.
Rub the cooktop or other surface gently.
Rinse thoroughly within one minute of application.
Wipe surface dry.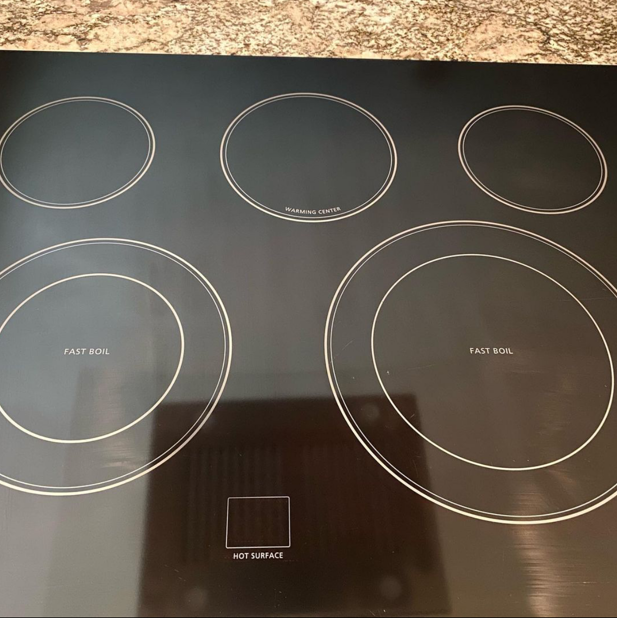 Ingredients
Water, Micro-Abrasive Particles, Glycerin, Polymeric Dispersant, Xanthan Gum, Surfactant, Citric Acid, Citrus Fragrance
Safety Info
If product is accidentally ingested, drink milk or water and call a doctor immediately. If product comes into contact with eyes, flush with water for 15 minutes. Do not mix product with other chemicals, including bleach or ammonia. For prolonged use or sensitive skin, handle product with gloves. Never apply BKF Cooktop Cleaner to a hot surface. Rinse all food-contact surfaces thoroughly. This product is safe for septic systems.
Click anywhere to close...