Cookware Cleanser & Polish
Specially formulated to remove burnt-on food and stains, BKF Cookware Cleanser & Polish can make old cookware and dishes look new again.
Buy on

---
Made to power through baked-on food grime, Bar Keepers Friend Cookware Cleanser & Polish contains 50% more grease-cutting detergents than our other cleansers. Our Cookware Cleanser can remove stains from glass and ceramic casserole dishes, stainless steel utensils, enamel-coated cast iron, and other cookware.
Where To Use
Stainless steel

Glass
Where Not To Use
Gold or silver

Polished stone such as marble or granite

Lacquered, painted, or mirrored surfaces
Kitchen
Stainless steel pots and pans

Glass casserole dishes
Baking sheets
Oven door interiors (do not apply to areas you can't rinse well)
Tough stains on cooking surfaces
Bathroom
The toughest rust stains and mineral deposits
Stubborn stains on showers, tubs, and toilets
Outdoors
The best way to clean stainless steel grills!
Grill tools
Camping cookware
Rust stains
Before You Clean: Some ingredients in BKF's Cookware Cleanser & Polish may etch or dull delicate surfaces. Before cleaning fiberglass, plastics, anodized aluminum, or brushed metal surfaces – including appliance exteriors – test first.
Wet surface to be cleaned.
Sprinkle a small amount of Cookware Cleanser & Polish on the dampened surface.
Rub gently with a wet cloth or sponge.
Add more product as necessary.
Rinse thoroughly within one minute of application.
Wipe surface dry.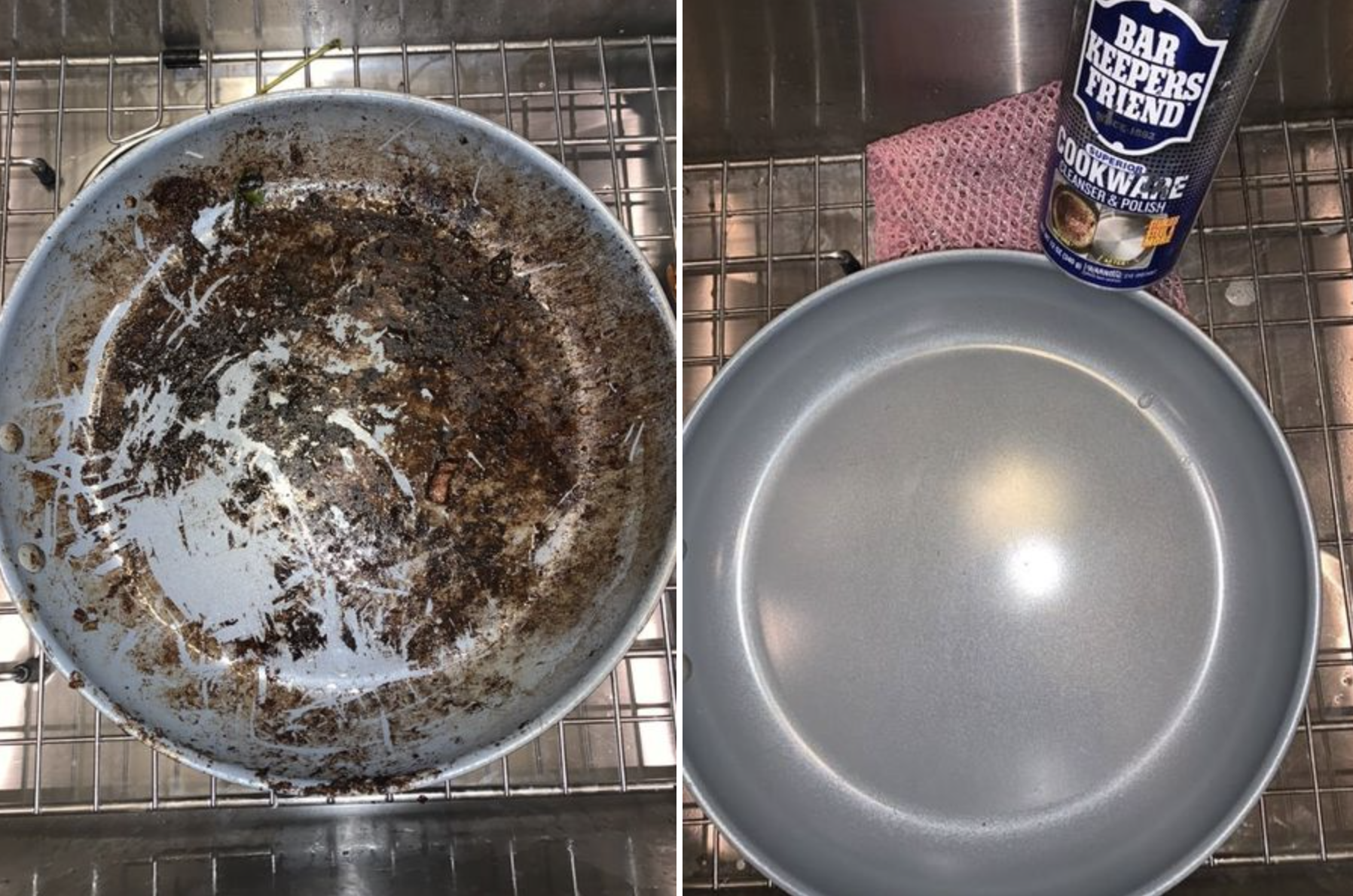 Ingredients
Glass Oxide Abrasive, Oxalic Acid, Surfactant.
Safety Info
If product is accidentally ingested, drink milk or water and call a doctor immediately. If product comes into contact with eyes, flush with water for 15 minutes. Do not mix product with other chemicals, including bleach or ammonia. For prolonged use or sensitive skin, handle product with gloves. Do not inhale dry product. Wet product immediately after dispensing. This product is safe for septic systems.
Click anywhere to close...