Stainless Steel Cleaner & Polish
Stainless steel care at its finest. Remove oily fingerprints, grime, and food debris without damaging the protective coating on your stainless steel appliances.
Buy on

---
Bar Keepers Friend Stainless Steel Cleaner & Polish contains no harsh abrasives and is formulated specifically to clean stainless steel without scratching or dulling surfaces. The finest in stainless steel care, this stainless steel cleaner shines stainless steel and wipes away easily. Use it regularly to remove oily fingerprints, light hard water spots, and food soils.
Where To Use
Stainless Steel
Where Not To Use
Gold or silver

Polished stone such as marble or granite

Colored grout

Lacquered, painted, or mirrored surfaces
Where to use:
BKF Stainless Steel Cleaner & Polish is safe for use on coated and uncoated stainless steel, but it is not recommended for other types of metal. To clean bronze, copper, and brass, use Bar Keepers Friend Soft Cleanser.
Although this product is formulated to clean stainless steel, always test on a small, inconspicuous area first.
Shake product well.
Routine cleaning: Spray stainless steel cleaner directly onto surface. Wipe along the grain/brush lines, using a soft, clean dry cloth (microfiber works especially well) or paper towel. Flip cloth to dry side and buff to an even shine.
Heavier soiled surface: Spray stainless steel cleaner onto surface. Let stand for about 1 minute. Rub surface lightly with a non-abrasive, nylon-mesh sponge or microfiber towel. Wipe the surface dry with a clean soft cloth, paper towel, or microfiber cloth.
Use Bar Keepers Friend Stainless Steel Cleaner & Polish on stainless steel appliances, fixtures, sporting equipment, outdoor grills, and more. Do not mix Bar Keepers Friend Stainless Steel Cleaner & Polish with other household cleaning products. After use, turn spray nozzle to "off" and store in a secure location.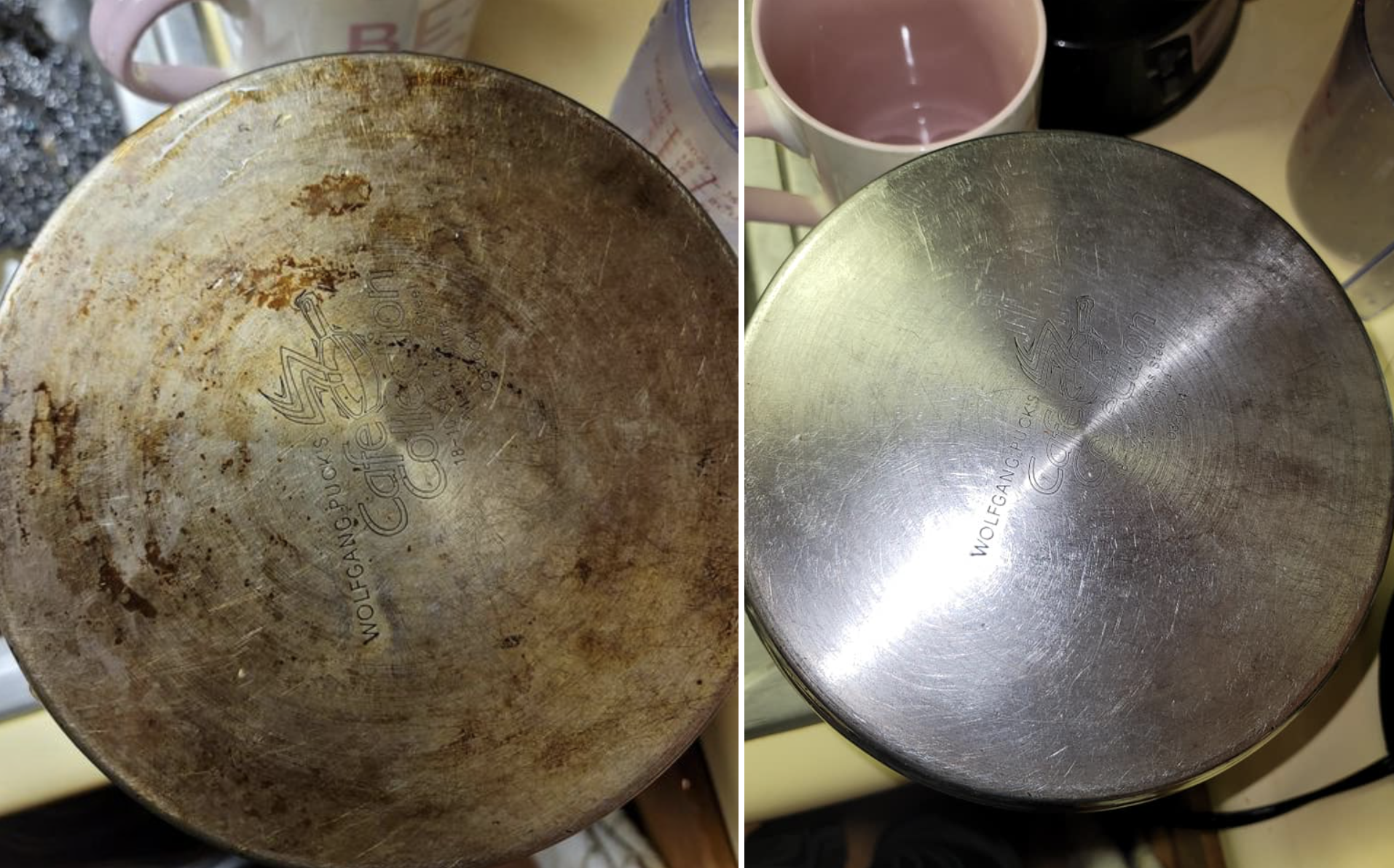 Ingredients
Water, Mineral Oil, Surfactants, Propylene Glycol, Glycerin, Fragrance, Preservative
Safety Info
If product is accidentally ingested, drink milk or water and call a doctor immediately. If product comes into contact with eyes, flush with water for 15 minutes. Do not mix product with other chemicals, including bleach or ammonia. For prolonged use or sensitive skin, handle product with gloves. This product is safe for septic systems.
Click anywhere to close...